[video] Take 2020 Holiday Season Learnings Into 2021
On the next episode of Blue Acorn iCi's video series, "A Moment of Truth," Chase Bruch, Direct of Analytics at Blue Acorn iCi, shares the three major customer experience learnings from the 2020 holiday season and how to leverage those insights for success in 2021. Watch the video or read the transcript below.


blob//localhost:3001/753a8e49-f1f2-4303-9368-af3e745f7f4c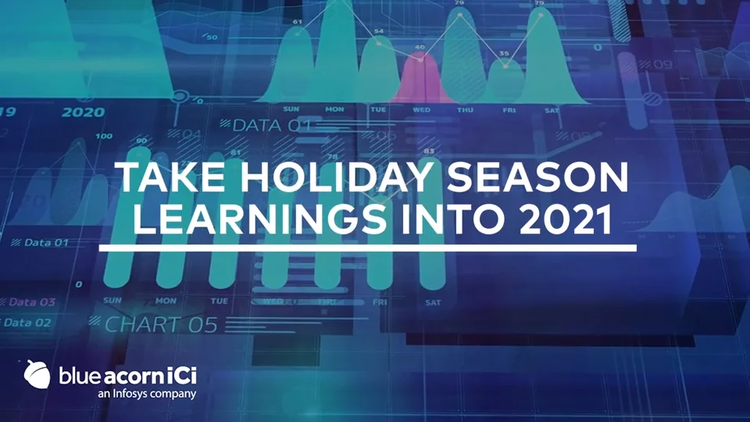 Click for sound
1:49
Transcript
Hi everyone! Chase Bruch here, Director of Analytics at Blue Acorn iCi. I'm here to briefly discuss some key takeaways and learnings from the 2020 holiday season.
The first of these themes were operational challenges related to stock and inventory of product. Many products were low in inventory related to COVID demand surges during summer and early fall. This created some challenges during Black Friday and Cyber Monday. Consumers were looking for products that were out of stock and ultimately resulted in missed opportunities for revenue and conversion.
A second theme that we saw was the effectiveness of amplifying promotional and gift messaging, whether through homepage promotional banners or the navigational structure. Amplifying the UX of these elements really helped drive conversion and revenue as shoppers were able to find these areas on the site, understand how steep the discounts were and convert quickly.
A final theme that I want to mention is the opportunity for harnessing some of this volume for testing programs. Smart tests with strong hypotheses that you have conviction in can be a great time to maximize the traffic hitting your site, bank the learnings and the winnings, and hit statistical significance quickly due to the uptick in volume.
We always recommend analyzing, examining your 2020 performance, and thinking about ways to improve 2021. Understanding what worked and, more importantly, understanding what didn't work can help shape and focus your roadmap in 2021. Thank you so much!
If you need help with optimization efforts, such as user research, A/B testing, or business intelligence enablement, reach out to our team today. We've helped Fortune 500 organizations and digitally native brands create immersive digital customer experiences that delight shoppers and deliver results.
Subscribe to Our Newsletter
Get the latest insights from Blue Acorn iCi