How our Business Systems Analyst Compliments your BA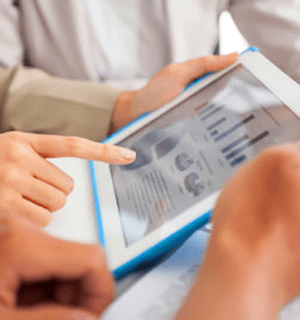 Many of our clients often have their own Business Analyst (BA). When we begin a project together, their BA has already begun compiling requirements and identifying business needs. To do this, they draw from the perspective of their own position within the organization and a deep understanding of their company. Both give them a solid foundation on which to create a list of needs and expectations that we, as their vendor, are expected to deliver.
However, just having a BA on the client side is often not enough to ensure a successful outcome. There are many benefits to having an equivalent role on the vendor side; one who can translate the business objectives into a technical architecture and language that developers can understand and build from. Fortunately, iCiDIGITAL provides just that in the form of a Business Systems Analyst.
The Role of a Business Systems Analyst
We are hired because we have subject matter expertise and the ability to apply it for successful outcomes. We are sought out for a variety of reasons from proven experience in AEM, to understanding modern web design best practices, to creating an effective digital strategy.
Let's use an example of a client who wants to implement AEM. It's unlikely that they have the deep understanding that we do about the inner workings of the system and how to build it to meet their specifications. (Hence the reason for bringing us on as a partner). And without that understanding, it will be next to impossible for the client's BA to create technical requirements that are detailed enough for development. This is where our Business Systems Analyst really makes a difference.
Having a dedicated resource on the vendor side, who can act as the communicator between the client and the project teams is incredibly valuable. The Business Systems Analyst is essentially a system expert with the ability to accurately and consistently translate the business requirements of the client into documentation actionable by design and development teams.
Thinking through true technical requirements requires a very specific kind of mindset—it requires someone who can predict all possible questions a developer or designer may have, and address them before they're asked. It requires someone who has acquired a lengthy resume of best practices garnered from specific experience. In addition, the advantage of viewing the project through a wider scope because they are seeing it for the first time. A Business Systems Analyst is both detailed and strategic in their thinking, and able to 'speak' to each of project participants to ensure everyone is on the same page.
What Differentiates Our Business Systems Analyst From a Typical BA?
Our developers are excellent; but in order to write code that meets or exceeds client expectations, they must have a clear understanding of what the code is supposed to do. Our Business Systems Analysts have exceptional technical knowledge, an ability to strategically plan, and the capability to resolve issues as they arise. They are specifically trained to serve as the bridge between the client and our project team, helping to translate the business needs into language our developers can understand. They have an eye for potential issues that can arise and meet them head on before they can become cumbersome. Our Business Systems Analysts ensure the final solution is exactly on target and meets requirements, which will ensure a successful project each time. And more importantly, save time and resources during the process. Their ability to articulate and facilitate the needs of the client means clearer development direction from the beginning, less issues during QA, and much higher likelihood of positive UAT testing results.
Here is an example. A client wants to include a component on the home page with the ability to show video and needs the development team to build it.
A Business Analyst might include something like this in the requirements:
Site will have player that allows various videos to be viewed on the home page.
Our Business Systems Analyst would include that in the requirements, but would then ask a number of additional questions to build a complete user story that the developer would use to create the code; and as a result meet the client's expectations for the player.
Our Business Systems Analyst needs to know…
Where are the videos hosted?
Do you currently use a 3rd party platform to house videos?
Will you continue with your existing platform?
What kind of metadata is available for videos (Title, Topics, Categories, etc.)?
Are videos HTML5 enabled?
What browsers do you support?
What devices would you like to support?
Is there a different behavior for tablet and mobile?
Are your current videos ADA compliant?
Can you provide more detail on the pages or sites where these videos will be used?
Is there a need to have flexibility on video player size?
Where does your video strategy fit into overall marketing?
While the information a client's BA provides is incredibly helpful as a jumping off point for our team, without a technical Business Systems Analyst on the project, the requirements are unlikely to be specific enough to convey the needs of the client. And if the developers don't have a clear understanding of the client's expectations, it could result in an unsatisfactory outcome, which can significantly impact the scope of the project.
Want to know more about the role of a Business Systems Analyst? Contact us!
Subscribe to Our Newsletter
Get the latest insights from Blue Acorn iCi