How to Create an "Instagram Worthy" Unboxing Experience

What do online orders and your birthday have in common? They both seem like they take forever to arrive, but elicit great anticipation and excitement. Now imagine showing up to your birthday party and seeing an "It is your birthday" sign hanging on the wall—it's generic, disappointing, and forgettable. It's the same feeling when you receive an online order packed in a brown box sans branding, with generic bubble wrap or packing peanuts inside.
In Blue Acorn iCi's customer experience study, we found that most brands miss the mark when it comes to packaging and the unboxing experience. In fact, only 8% of the brands in the study delivered an on-brand, premium packaging design.
What is the Unboxing Experience?
The unboxing experience starts the moment the customer sees the package on their front doorstep. They bring the package inside, open the box, inspect the product, and look for further information. With the right materials and design, the unboxing experience brings the brand to life in the customer's home, enhancing customer loyalty and brand awareness.
Early adopters of the premium, branded packaging experience quickly gained the attention of influencers and YouTube stars. There are now hundreds of millions of unboxing videos shared across social media by influencers and everyday consumers.
What the Unboxing Experience Can Do For Your Brand
"The unboxing experience is the new frontier of ecommerce. Your retail associates are no longer at checkout stands talking to your consumers in a store on a regular basis. The bulk of the consumer communication you have is through your unboxing experience," said Wayne O'Connor, SVP at FulFillment Works.
If done right, the unboxing experience can be a win-win for brands and consumers:
55% of online shoppers will go back to a website if their purchase comes in customized packaging.
70% of consumers base their impression of a brand solely on the packaging
30% of businesses reported an increase in revenue when they improved their packaging
As consumer expectations continue to heighten, the unboxing experience is shifting from a nice-to-have to a must-have to retain customers. An investment in creating a memorable unboxing experience is an investment in long-term customer loyalty and brand awareness.
For more insights in enhancing every step of the customer journey—from the homepage to returns—download our Complete Customer Experience Report.
What to Include in the Unboxing Experience
The moment a consumer sees their package, you want them to know where the box is from immediately. Your brand can accomplish this instant recognition by designing the outside of the box with brand colors or the logo. The inside of the box is where you can get more creative.
Branded Packaging
When choosing the packaging materials, think about what will align with your branding and industry. For example, one of Blue Acorn iCi's clients, a baby food manufacturer, designed the outside of the box with the brand's logo and colors. Inside the box, shoppers will find dark blue tissue paper, protective packaging, and a white box interior to reflect the cleanliness of the product. By picking packaging materials that reflect the same aesthetic (think: color scheme, logo, images, etc.), you ensure the branding maintains cohesiveness.
Keep in mind that an increasing number of consumers care about sustainable packaging. One study found that 63% of consumers care as much about the packaging material of their purchase as they do about the product itself. Using recyclable or reusable packaging, such as Glossier's popular pink pouch, will show customers your focus on enrichment-friendly practices.
Elements of Personalization
Personalizing the unboxing experience goes a long way in capturing the customer's attention and making a connection. We've seen brands personalize the experience with custom stickers on the outside of the box, such as the Sezane example below, or personal letters from the CEO in the box.


blob//localhost:3001/cdba1095-d189-4b59-a90f-b1a71127d432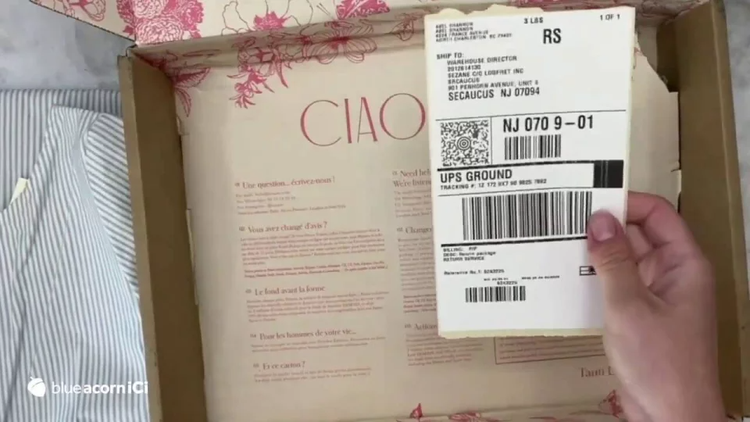 Click for sound
1:09
Marketing Inserts & Messaging
Unlike emails, packages have a near 100% open rate. Take advantage of this opportunity by including targeted messaging inside the box. The type of marketing you add could be around an upcoming promotion, product launch, or the customer's recent purchases. To increase brand awareness, include clear calls to action for your brand's social media handles and hashtags as well as messaging that encourages customers to share their product images. This will help you track the photos and videos and repurpose for user-generated content throughout the customer journey.
Surprise Gift
Adding a complimentary gift to the package is one of the easiest ways to add a personal touch and pleasantly surprise a customer. It could be a free sample, a handwritten note, or something as simple as a branded sticker. For example, YETI includes stickers in their packages—now you see them on laptops, cars, or water bottles.
Return Label
Returns are part of doing business, which is why this process should be as frictionless as possible for the customer. If done right, you can use returns to increase returning customers. Start by including the return label in the box—eliminating the customer's need to go online, request a return slip, and find a printer to print out the label.
For The Funnel: an Experience Driven Commerce Podcast, we interviewed Wayne O'Connor, SVP at FulFillment Works, about enhancing the post-purchase customer experience. Listen to the full podcast episode here.
How to Leverage Unboxing in Your Marketing Strategy
When walking into a brick-and-mortar store and purchasing an item, at a minimum you will receive a branded shopping bag. Often stores will offer gift wrapping and add a coupon in the bag to encourage repeat purchases. When the customer walks out of the store with the branded bag, they immediately become a walking billboard. Unfortunately, the majority of brands lack this same level of detail for their online shoppers.
Creating an unboxing experience is as much a marketing process as it is a fulfillment process. If a customer took a picture of the box and posted it on Instagram, what message would you want it to convey? Unlike the shopping bag at brick-and-mortar stores, unboxing images and videos can reach thousands of potential customers within your target audience.
The Nitty Gritty of Unboxing: Freight
When talking to our clients about packaging, of course we start with the most exciting part. We walk through Blue Acorn iCi's Unboxing Lab, create the design, and choose the marketing inserts. But freight plays a huge role in shaping the ultimate unboxing experience and keeping the cost down on fulfillment.
Freight is a costly endeavor, but working with a fulfillment vendor allows you to share freight rates with the vendor's total volume rather than your brand's volume. This is a huge cost-saving and enables the brand to turn those savings into benefits for their customers, such as free or reduced shipping.
When choosing a fulfillment vendor, look for ones that can handle both B2B and D2C ecommerce packaging. What's the difference? With B2B freight, the items are packed on a pallet, which means they never turn on their side or move around during transport. That is not the case for D2C ecommerce packages. These packages go through conveyor belts, tumble in the back of a truck, and are placed on someone's doorstep. A lot can happen to the product in the box from shipping to arrival, requiring a more thoughtful and strategic design.
When engaging experts to properly manage the logistics and help determine what packaging works best for your industry, you can focus on building and strengthening your customer relationships in addition to creating the best products. Blue Acorn iCi has the experience and resources to provide you with the recommended options to best serve your needs based on your product and industry. If you would like to learn more about our packaging and logistics services, reach out to us here.
Editor's Note: This post was originally published in August 2019 and has been revamped and updated for accuracy and comprehensiveness.
Subscribe to Our Newsletter
Get the latest insights from Blue Acorn iCi