Drive Online Traffic & Conversions With Performance Marketing
When working with brands and retailers, we often get asked, "What is performance marketing?" followed by "Why can't we just use our brand agency?" Performance marketing agencies and brand marketing agencies typically have two different objectives. A brand agency is primarily focused on creating and promoting a brand, shaping the brand story, and building brand awareness. A performance marketing agency focuses on developing and implementing ecommerce marketing strategies that will drive traffic to the online store and convert visitors to shoppers.
"When you're running ads to drive traffic and conversions for an ecommerce site, you really need someone that understands the nuances of ecommerce and product data," said Lindsey Murray, VP of Performance Marketing at Blue Acorn iCi. For example, Google Shopping Ads require optimized product feeds to ensure you get the most out of your paid campaigns. Google uses your product feed to build the ads or listings, which includes information like product ID, product image, product title, product description, and price.
Keep in mind that performance marketing agencies are not a substitute for brand or marketing agencies. Blue Acorn iCi's Performance Marketing team often collaborates with a client's brand agency to ensure they're following brand guidelines and maintaining a consistent look and feel across all customer touchpoints and channels.
Performance Marketing Data & Analytics
Unlike a brand agency that focuses on impressions and reach, a performance marketing agency focuses on ecommerce specific metrics like revenue and conversion rate. From a marketing perspective, performance marketers also track return on ad spend to ensure ads produce profitable conversions. "We're not doing our job properly if you're only getting a ton of impressions. The campaign needs to align with and support the goals of your ecommerce store and digital campaigns," said Lindsey.
What makes a campaign successful:
High conversion rate
Positive return on ad spend
Revenue from the ecommerce site
Depending on the campaign's goal, other important metrics to track are email open rates, clicks, new subscribers, return customers, customer lifetime value, and purchase data. By looking at products frequently purchased together, you can identify upsell and cross-sell opportunities that drive new product adoption. Promoting these products on product pages, post-purchase emails, during checkout, and retargeting ads, allows you to positively affect average order value and repeat purchases.
Performance Marketing Channels
It's tempting to spread campaigns across every channel and social media network, but marketing budgets will go further if a company focuses on the channels and networks that align with their brand and target audience. "For example, if you're a brand with a younger audience that likes lifestyle images, you'll likely see a lot of engagement on Instagram," said Lindsey.
Email Marketing: Most companies, no matter the size or industry, can use email marketing campaigns throughout the end-to-end customer lifecycle. Our Performance Marketing team often uses Klaviyo for our clients to send automated marketing emails, including welcome, cross-sell, upsell, and automated abandonment cart emails. Customer segmentation will help you deliver personalized messaging that influences a specific behavior or enhances customer loyalty.
Paid Social Advertising: Paid social advertising can be used for a variety of reasons, from acquiring new customers to encouraging repeat visits and purchases. Brands often use paid social to target customers with personalized product recommendations, announce promotions, or capture leads. Instagram, Facebook, Twitter, and Pinterest are among the most popular social networks for advertising.
SEO: SEO, or search engine optimization, is how you optimize your website and content to rank higher in search engines. Keyword research, analyzing competitors, link building, and updating content and metadata will help improve your SEO, organic growth, and organic sales.
Affiliate Marketing: Affiliates will send traffic to your site, and in exchange they receive a commission from the brand. Affiliates often have defined or niche audiences, allowing you to target new customers and grow brand awareness.
Paid Search: Bands can use paid search to promote text-based ads based on keywords, or use product feeds for Google Shopping campaigns. Since Google Shopping campaigns revolve around product data, you need to make sure the information is always accurate and up-to-date.
Listen to our interview with Lindsey Murray, VP of Performance Marketing at Blue Acorn iCi to learn more about the differences between Performance Marketing and Brand Marketing.
Integrating Performance Marketing, Merchandising, and Customer Service Teams
Changes in stock, customer feedback, and promotions can all have an impact on performance marketing campaigns. If a product is no longer available, the Performance Marketing team needs to be notified to ensure they're no longer spending budget promoting that particular product. When the Performance Marketing, Merchandising, and Customer Services teams are well integrated and have an open line of communication, they can quickly pivot messaging, campaigns, and promotions to ensure a frictionless customer experience.


blob//localhost:3001/738f91c2-de86-4d15-96b0-4d005620afd8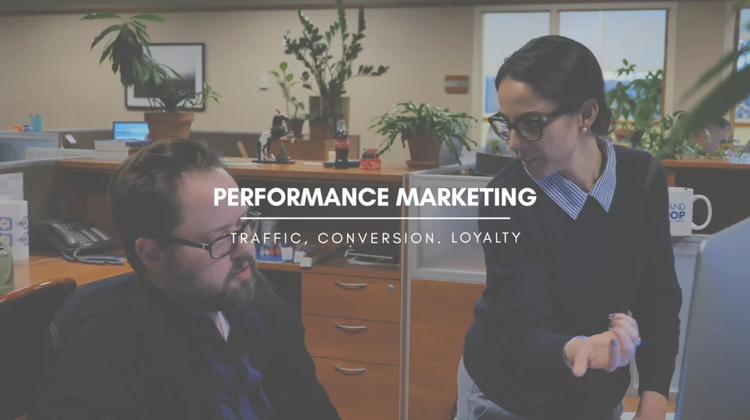 Click for sound
1:17
Performance Marketing Success Story: Michel Design Works
When Michel Design Works, a gift, home, and lifestyle brand, first launched their direct-to-consumer (DTC) site, they needed help building customer data. The first-time DTC brand partnered with Blue Acorn iCi's Performance Marketing team to create and implement an ecommerce specific marketing strategy that would acquire and retain customers.
Our team focused on building data via email opt-in lists so Michel Design Works could communicate with their loyal customer base. We launched paid Facebook and Instagram ads that targeted users and promoted 20% off the first order if they opt-in to emails. In the first 90 days of the Facebook and Instagram campaigns, Michel Design Works increased their email database by 114%. By the end of 2020, the email subscriber database increased by 570%.
Brands typically have low expectations for the initial launch of a new DTC channel, but Michel Design Works beat their 2020 DTC revenue goal by 30% due to an effective performance marketing strategy. Blue Acorn iCi's marketing efforts—paid search, paid social media, email, organic, and SEO— accounted for 83% of last-click revenue attribution. The email marketing campaigns alone drove over 40% of Michel Design Works DTC revenue in 2020.
Read More About Michel Design Works' Performance Marketing Strategy.
What to Look for in a Performance Marketing Agency
When evaluating performance marketing agencies, Here's what to look for:
Make sure they are familiar with the ecommerce platform you're using and they understand how to leverage product data for product feeds.
Ask them what KPIs they track and how they measure ROI.
Ask if you'll have access to real-time reporting and analytics, rather than only monthly or quarterly reports. Blue Acorn iCi's Performance Marketing team provides clients with real-time analytics and marketing dashboards so there's full transparency around campaign performance, how much they're spending each day in each channel, and how much revenue is growing.
If you need help creating, implementing, and optimizing your performance marketing strategy, reach out to our team today. We focus on data-driven performance marketing strategies that improve ROI and align with your ecommerce goals.
Subscribe to Our Newsletter
Get the latest insights from Blue Acorn iCi