Blue Acorn iCi Recognized as the 2020 Adobe Emerging Solution Partner of the Year

We are excited to announce that Blue Acorn iCi was recognized as the 2020 Adobe Emerging Solution Partner of the Year in the Americas!
The award honors the Adobe Digital Experience partner that has achieved impressive growth in business, including ASV and services, in the enterprise segment. Recipients must also demonstrate a strong commitment to driving customer success and exhibit continued improvement through completing certifications and specializations.
"As a leader in digital customer experience, digital commerce & analytics for over a decade, it is exciting to see this type of industry recognition for the work that we do every day for our clients," said Greg Boone, Co-CEO of Blue Acorn iCi. "We truly appreciate the acknowledgment and thank the Adobe team for their continued support."
"Blue Acorn iCi has demonstrated their focus on delivering highly customized solutions that drive business value. They are an innovative, collaborative partner that we look forward to continue working within 2020 and beyond," said Tony Sanders, Senior Director, Americas Partner Sales at Adobe.
The award is typically announced at Adobe Summit in Las Vegas, NV. While our team couldn't celebrate the award in person, we did the next best thing: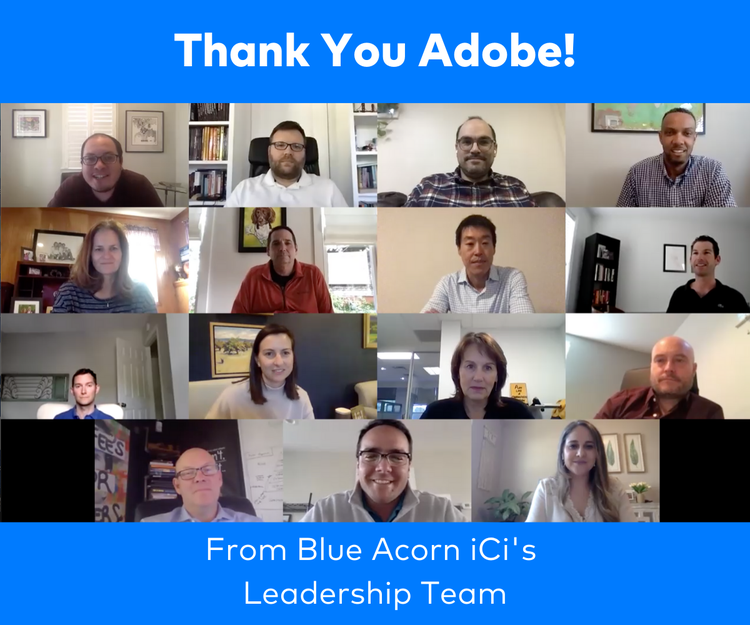 In Q1 2019, Blue Acorn and iCi Digital merged to form a digital customer experience company. Later in 2019, the newly formed Blue Acorn iCi acquired Mediotype Commerce—adding a team of engineers to its growing company and became one of the most experienced and skilled customer experience companies in the Adobe ecosystem with over 300 certifications.
Blue Acorn iCi was one of the first Adobe Experience Manager and Magento Commerce specialized partners. Achieving specialized partner status means:
We are recognized by Adobe as a highly skilled partner in the Adobe partner ecosystem.
We have invested in the development of our teams through Adobe and Magento skills testing.
We have proven customer success with high-quality implementations and enhanced capabilities.
Our team has deep expertise in Adobe Analytics, Adobe Target, and Adobe Campaign.
"Our strategists, creatives, data scientists, and engineers have mastered some of the most complex content and commerce technologies. Focusing on exponential growth in revenue, reach, and customer value, we've delivered award winning customer experiences for some of the largest brands in the world," said Chris Guerra, Co-CEO of Blue Acorn iCi.
The Emerging Solution Partner of the Year Award marks an important milestone for Blue Acorn iCi, following the recent announcement of their Adobe Platinum Regional Partner designation within the Adobe Solution Partner Program. "In 2019, we focused on market reach, customer experience, and value realization for Adobe customers. It's truly an honor to work with a visionary company like Adobe and to be recognized as their Emerging Partner of the Year," said Adriana Rubio, VP of Strategic Partnerships at Blue Acorn iCi. Read the press release here.
Blue Acorn iCi is a portfolio company of Beringer Capital.
To learn more about our Adobe and Magento experience, feel free to contact us here.
Subscribe to Our Newsletter
Get the latest insights from Blue Acorn iCi