Attract & Retain Shoppers with a BOPIS Strategy
Out of the top Total Retail's 100 omnichannel retailers, 63% of them offer some form of buy-online-pick-up-in-store (BOPIS) offering. BOPIS enables customers to browse and purchase products online and pick up the order the same day at the nearest brick-and-mortar store.
While BOPIS has been around for years, the COVID-19 pandemic accelerated the growing trend. BOPIS increased 554% in May 2020, with total online orders up 194%. BOPIS is ideal for shoppers hesitant to spend a significant amount of time in a physical store or prefer the convenience of purchasing items online and picking up the same day in the store or through curbside pickup.
Why Adopt a BOPIS Strategy?
As a result of the pandemic, nearly two-thirds of US shoppers bought goods online for the first time that they would have otherwise bought in-store. At the same time, consumers are buying products online and picking them up in stores at more than four times greater volume than before the pandemic.
To align with changing consumer behavior, brands and retailers with physical locations are implementing a BOPIS service. Experts predict that by 2021, 90% of brick-and-mortar retailers will offer BOPIS. BOPIS gives customers the ultimate convenience of customizing how they purchase items. They can determine which items are worth waiting for home delivery and which they need the same day.
Customers are not the only ones that benefit from a BOPIS strategy. BOPIS opens an opportunity for brands to grow revenue by cross-selling products and form a personal connection with the customer. According to My Total Retail, 83% of retailers associate at least 20% of their online revenue to BOPIS.
BOPIS also helps brands minimize the extra shipping fees for residential addresses that FedEx, UPS, and USPS put in place during the holiday season. Without BOPIS, brands would either need to take on the extra cost themselves or pass it on to their shoppers.
How to Implement a Successful BOPIS Strategy
Integrated Inventory Data
Showing shoppers localized inventory on your ecommerce store requires integrated communication between your commerce platform, and inventory management system for physical stores and warehouses. This ensures you have stock available to offer BOPIS while giving customers real-time localized inventory across your ecommerce site.
For example, Blue Acorn iCi integrated SouthernCarlson's commerce platform with their multi-warehouse module. Centralizing the inventory data allowed SouthernCarlson to track inventory across channels, including the website, warehouses, and brick-and-mortar stores. Using geolocation, SouthernCarlson automatically presents local inventory data based on the shopper's nearest store location on the product listing and detail pages.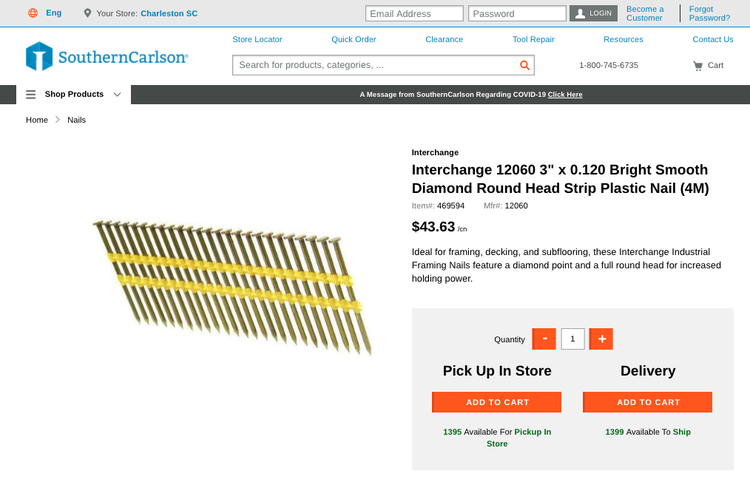 Read more about SouthernCarlson's digital transformation and omnichannel experience here.
Optimized Digital Customer Experience
You want the BOPIS customer journey to be as frictionless as possible, starting with the digital customer experience. By delivering an optimized, consistent customer experience across devices, customers can easily find the items they want to purchase and choose a time and store location to pick up the order. This starts with clear messaging around your BOPIS offering across the homepage, product pages, and check out.
Next, you want to make it as easy as possible for online shoppers to browse products that are available near them. For example, on the product listing page, lululemon allows customers to filter product listing pages based on their local store inventory.
The number one area where most retailers fall short in the BOPIS experience is the pickup process. Customers are often confused about where and how to pick up their online orders once they're at the store. Providing clear BOPIS directions during online checkout and post-purchase will help minimize confusion. Use the customer Order Confirmation Email to include pick up directions or a link to a BOPIS FAQ page with answers frequently ask questions such as:
When will my order be ready?
Where in the store do I go to pick up my order?
How long will the store hold my online order?
How do I prove it's my order?
Do you offer curbside pickup?
Before the customer walks through the door, think about how you can personalize their in-store experience. If the shopper opted for in-store pickup over curbside delivery, send personalized product recommendations that are available in-store via email or text.
What do Warby Parker, Casper, and Le Creuset have in common? They own the customer experience. Find out how you can too with Blue Acorn iCi's report, Own the Customer Experience: Making the Switch to Direct-to-Consumer.
Enhanced Physical Store Experience
One of the most beneficial aspects of BOPIS for a brand or retailer is that it gets the customers to your store. This gives store associates the chance to foster customer loyalty, make personalized product recommendations, and ultimately increase in-store revenue. Studies have found that 85% of shoppers buy something additional when they pick up their online orders at the store. However, like many aspects of the customer experience, brands need to adapt the BOPIS strategy while COVID-19 remains a prevalent concern.
Follow these tips to enhance the BOPIS experience during the pandemic:
Create a separate pickup location for online orders in the store
Offer a contactless curbside pickup option for those hesitant to enter physical stores
To minimize wait time, have the order ready in the time specified in the order confirmation email (DYK: Customers are more likely to use the service again when they can pick up their order in two hours or less)
BOPIS is a win-win for brands, retailers, and customers. Brands have the opportunity to create a convenient customer experience that improves online and in-store revenue, while customers can customize how and when they shop. If you need help implementing a BOPIS service, feel free to contact us.
Subscribe to Our Newsletter
Get the latest insights from Blue Acorn iCi